Read what patients have to say about Dr. Tom Francescott.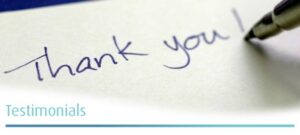 "Dr. Francescott's ability and determination to pinpoint the problem..to examine every aspect whether physiological or psychological…whether the imbalance was connected to the past or the present…reassured me and guided me towards recovery. Suffering from severe trauma related illnesses, I saw traditional and alternative practitioners for years. Dr. Francescott is accessible, intuitive, motivated, and brilliant. He listens! He initiates the healing process by really hearing what you have to say…he sifts through the gold he mines in every session to uncover the core, the origin, the way to move forward. Dr. Francescott ignites hope. He helps retrieve the significance, the quality of life." -Diane Eichelberger
 "Dr. Tom is our first stop to wellness. After many years we have found him to be caring and insightful, perceptive and intuitive; all supported by his strong and growing medical knowledge. Dr. Tom has surrounded himself with a caring and responsive staff–focused on your well-being. Who couldn't ask for more!!" -Sylvia and David Furash
"When i first went to see Dr. Tom my body was out of sync, sleeplessness, hormonal ups and downs, Thyroid issues and stress due to the recent loss of my husband. In the last four years, Dr. Tom has addressed my issues and my health has turned around significantly. At 51 years of age I am healthier than i have been in eight years. I have also entrusted my sons' health to Dr. Tom with great results." -Elaine Warfield
"I have really enjoyed the simple, direct method Dr. Tom prescribes. He was able to understand my goals with a clear intuition and offer effective treatments conducive to my specific path. Since I began working with Dr. Tom my energy has increased, my sleep has been more effective, my whole cycle has become more regular and my allergies have subsided. I strongly recommend Dr. Toms gentle, authentic care for anyone seeking a clearer, healthier lifestyle." -Faith Ruggiero
"I grew weary of feeling so ill maxed out on traditional rheumatoid arthritis meds. With dietary changes, supplement and lifestyle changes, Dr. Tom steered me to a more healthy approach to this disease. I feel better, have more energy and am intensely grateful!" -Jo Annne W. Key West, Fl.
"After two years of struggling with the after effects of increasingly potent drugs prescribed by my family doctor, and following what seemed an unending battle with recurring urinary tract infections, I wondered if at 59 my best years were behind me. Healthy and active throughout my life until then, I was frightened and depressed. My sister's gift of a first visit to Dr. Toms turned everything around. Under Dr. Tom's care my recovery has been extraordinary. I now feel healthy and vibrant and in full control of my own wellness (with an occasional friendly tune-up from Dr. Tom." -Dot Millward
"When my doctor prescribed Plavacil for rheumatoid arthritis and Lipator for high cholesterol, I knew it was time to meet a certain Naturopath I had heard of. After working with Dr. Tom for a year and a half, my pain and inflammation were gone. He gave me remedies and supplements and made some changes in my diet. All along he listened to me so I became a partner in the process during which I learned what I needed to know to keep myself healthy. Dr. Tom took me off a path to increasing ill health and medication. I am a very active and grateful 64 year old." -Martha Morrison